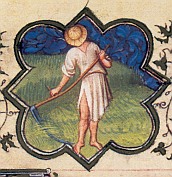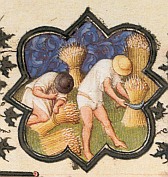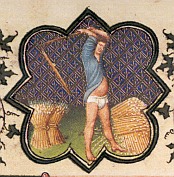 My dear Brothers and Sisters,
Today begins Whit Embertide (Wednesday, Friday and Saturday following Whitsunday/Penecost). It is third of four Embertides called "The Ember Days At the Four Seasons"  in your Prayer Books:
Advent Ember Days (for December, January and February); Lenten Ember Days (for March, April, May); Whit Ember Days (for June, July, August); Michaelmas Ember Days (for September, October, November).
Each Embertide is a time to reflect on the sovereignty of God over the times and seasons, the God who directs the courses of wind and weather, the God who causes all things to grow. Whit Embertide is for the months where the first plantings are beginning to be enjoyed and the major crops for our sustenance are cultivated.  These are the joyful emphases of the Ember Days.
Ember Days are: Times to review the previous Quarter; Opportunities for repentance and amendment; Days of abstinence and prayer for the physical prosperity of the land and the spiritual growth and harvest of the Church during the next quarter; Times of prayer for all clergy, ordinations, and for the raising up of many more who will be dedication to the sacred ministry of the Church.
The Collect for Ember Days
O ALMIGHTY God, who hast committed to the hands of men the ministry of reconciliation;   We humbly beseech thee, by the inspiration of thy Holy Spirit, to put it into the hearts of many to offer themselves for this ministry; that thereby mankind may be drawn to thy blessed kingdom; through Jesus Christ our Lord.  Amen.
Also there are special readings appointed for these days in the lectionary.
Blessings on this first Whit Ember Day,
Fr. Wayne